Fortunately, you don't have to go far to enjoy a bit of nature, since Madrid is one of the cities in Europe with the largest number of parks and green areas. You can take a break, stroll along its paths, take a boat ride or simply enjoy an ice cream or a soft drink in the middle of these urban oases.
In this list we bring the 10 best parks in Madrid
Retiro park
The Retiro Park or Parque del Buen Retiro, is like Central Park in New York, an authentic green space in the center of the city.
It is an enclosure built in the first half of the seventeenth century that has 125 hectares and more than 15,000 trees. An authentic paradise in which you can enjoy incredible peace, a lake where you can take a boat ride, monuments, a beautiful crystal palace and artists.
El Capricho Park
We are facing one of the green spaces that make up the artistic-natural heritage of Madrid. Located in Alameda de Osuna, it is one of the most beautiful parks and, paradoxically, one of the most unknown (especially its Civil War bunker). Created in 1784 by the Dukes of Osuna and especially by the Duchess, María Josefa de la Soledad Alonso Pimentel.
Madrid Rio
Along the Manzanares river , and since 2011, there is the park Madrid Rio . It has an extension of about 10 kilometres full of green areas, sports areas, picnic areas and even a atificial Beach .
Casa de Campo
Formerly it belonged to the Royal court, it was a space dedicated to hunting and even livestock, today it is the largest public park in Madrid, inside the Casa de Campo there is a large lake where you can also take a boat ride , the amusement park and the Madrid zoo. For that and more, this is one of the best parks in Madrid!
Campo del Moro
This park at the feet of the Royal Palace is known by this name since it was used by the Almoravid caliph Ali ben Yusuf who, in 1109, was provisionally installed with the aim of reconquer the Alcazar and the city of Madrid Today it is another remnant of peace, especially for its most famous inhabitants, the peacocks.
Parque de Europa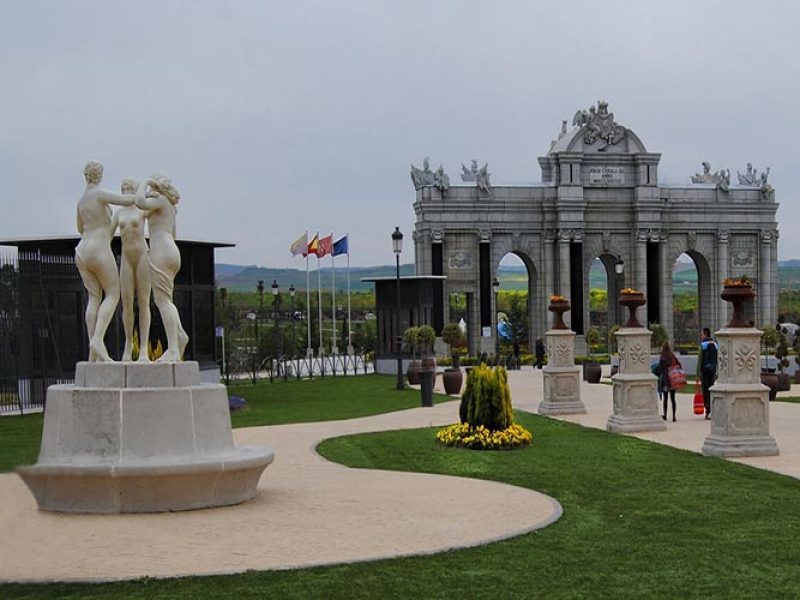 Famous park in the municipal area of Torrejón de Ardoz, where you can see the most famous and representative monuments of Europe.
Jardín Botánico (Botanical Garden)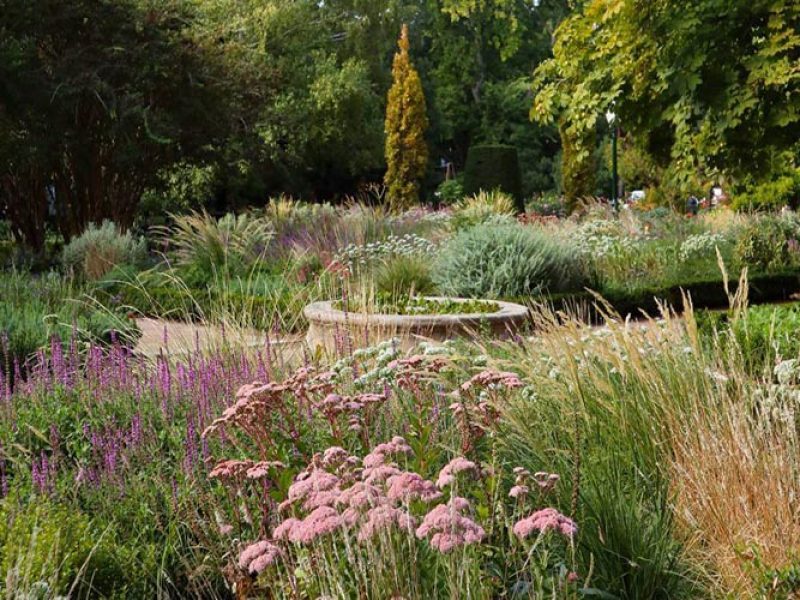 There are many places that can be visited in Madrid and one of them is the beautiful Jardín Botánico. Located on the Paseo del Prado, this beautiful place is perfect for strolling among its gardens, plants and flowers, both to meet different species and to enjoy a quiet walk away from the noise of cars and pollution.
Parque de Berlín
This park located in the north of Madrid, is a place with different elements in homage to the Capital of Germany. Few know that within this park there are some pieces of the famous Berlin Wall adorned with beautiful ornamental fountains and large living spaces, children's areas, bushes and extensive trees.
Los Jardines de Sabatini (Sabatini Gardens )
Beautiful Garden next to the Royal Palace where the palace stables were formerly located, in a neo-classical style, with a small fountain in the center, numerous statues and pine trees is one of the most visited parks in Madrid.
Templo de Debod (Temple of Debod)
This park takes its name from the monument that is found in it, a temple of more than 3000 years old, a gift from the Government of Egypt to Spain for having helped together with other countries to save numerous temples from destruction during construction. of the Asuan dam.
Take a look at our best EXPERIENCES and to Bike Tour that we have in the Casa de Campo ?
Find us on Instagram: @madrid_urban_vibes