Located about 53 kilometers from Madrid, in Manzanares el Real, in the Sierra de Guadarrama National Park, this castle is an architectural jewel of the Community of Madrid and one of the best preserved over the years.
Built in the 15th century, it is one of the last examples of Castilian military architecture.
Its construction was initiated by the Duke of the Infantry, Diego Hurtado de Mendoza, and was completed by his son, Iñigo López de Mendoza, who was the architect of the Catholic Monarchs.. Plasmating in its walls two eras, the medieval chivalricone with its multiple defensive elements and the humanist Renaissance one with its great halls, facades and viewpoints typical of a palace.
Although its initial function was that of a military fortress, it ended up becoming the residential palace of the Mendoza family, housing in its interior tapestries and furniture from the 17th century.
There are dramatized visits to the interior of the palace, lasting approximately 45 minutes, the guides will personify Don Iñigo López de Mendoza and his daughter, taking visitors through the different corridors, halls and its enormous church. In addition, the castle gardens were rehabilitated with plants that have been selected from historical documentation, including medicinal plants, trying to replicate the garden of the friars that the Duke had in his time, as well as a labyrinth that recalls the places of game.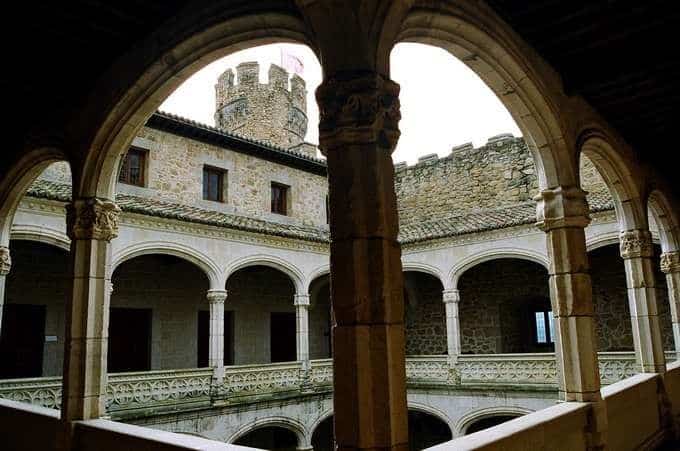 There are special events that take place in the gardens of the Manzanares el Real Castle, such as fencing days, film screenings, music, concerts and more.
Los horarios de apertura del castillo van de martes a viernes de 10 a 17:30 horas y los sábados, domingos y festivos desde las 10 a las 18:00 horas. General admission is priced at 5 euros, children under 14 and over 60 have a reduced ticket of 3 euros.
Don't miss out on visiting this incredible castle just a few minutes from Madrid.
Remember that we organize group outings to destinations like this and many more, you can check all the current outings in our activities section.
You can see more interesting articles in our BLOG
Find us also on INSTAGRAM