In Madrid there are many typical desserts, especially when special dates or days are celebrated; Donuts, Roscón de Reyes, fritters, and for the days of Lent and Easter, we have "Las Torrijas". There are many cafeterias and restaurants that offer them in Madrid, but in this post we reveal those that have been chosen as the best Torrijas for this 2023.
On March 15, the 6th edition of the "Best Torrijas de Madrid" contest was held, an annual event that brings together 23 pastry shops and seeks to choose the best.
It is the Association of Artisan Entrepreneurs of the Madrid Pastry Sector (ASEMPAS) that is holding this contest for the sixth year. This was divided into 3 categories: Traditional Torrija, Innovative Torrija and Torrija for Celiacs.
Aspects used to determine the best ones included presentation, fluffiness, texture, appearance, and flavor.
With all this, the winners of this year 2023 are:
El Riojano in the Traditional Torrija category (Calle Mayor, 10)
In addition to the 3 winners, ASEMPAS itself revealed the complete map with the pastry shops that participated in this 6th edition of "The Best Torrijas de Madrid", this in order to support all the participating businesses. We leave it to you below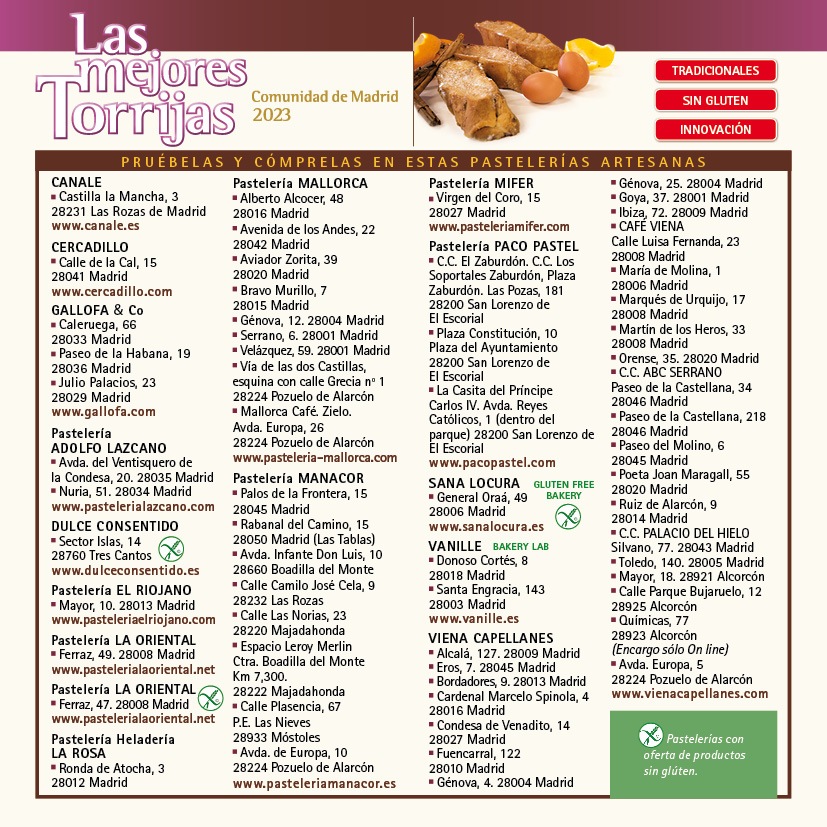 We hope you can enjoy this typical Lenten dessert and see for yourself the flavor and quality of the participating pastry shops.
You can see more interesting articles in our BLOG
Find us also on INSTAGRAM