It is Sunday and you are hangover after a long night drinking and enjoying Madrid's nightlife, but you still have some energy left to explore the city. Madrid is a big cosmopolitan city and there are always things to do every day of the week and here are some ideas for you of how to end the weekend amazingly, and to be fresh and ready to start the week!
El Rastro
El Rastro may be the first thing that comes to my mind to do on a Sunday, it starts in the morning from 9am to 3pm, and it's one of the oldest open air flea markets of Spain where you can buy new and second hands items, paintings, music, clothes, etc, if you love shoping and good food, come to this area in La Latina located along Plaza de Cascorro and Ribera de Curtidores. Some Madrilenians say that if you don't find something in Madrid, come to el Rastro, it must be there 😉
Free Museums
Yeah, FREE, I know, it's hard to believe but that's something interesting you can do on a Sunday here in Madrid, visit some of the most important museums of the world such as Museo del Prado, Reina Sofia, Thyssen, or the interesting museums of Antropology or Natural Science. After killing some neurons with too much alcohol last night, you can do things like this to keep you mind active!
Picnic
This city is full of parks to do picnics, but the most popular of all is Retiro Park with it's lakes, turtles fish, birds, that makes this park looks literally like the paradise on earth.
Cinema
It's a worldwide atracttion, Madrid can't be less and going to the cinema with someone or solo it's a good thing to relax and forget about the problems in the real life. If you also prefer to watch the movies in original version, the best option is Cines Ideal, right in the center, 2 minutes walking from Puerta del Sol, it is located by Plaza Jacinto Benavente, this is the exact addresse on google maps: https://goo.gl/6qNPmK
Live Music Bars (night)
Many bars are specialized in live music, some of them are really cool just to have a beer, chill, talk with your friends or your couple and enjoy… if you like blues I recomend La Coquette, near Plaza de Sol at Calle de las Hileras, 14. I don't have any comercial connection with them so you can trust me when I tell you that it is a pleasure to sit, and listen to the awesome musicians of the place, performing the most popular jam sessions of Madrid.
Grab a beer at Lavapies or La Latina
One of the most popular things to do in Madrid is to get social is grabbing a beer anywhere in Madrid but specially in these neighborhoods that give you the feeling of being in Madrid.
Visit La Tabacalera
One of the most underground places with a different space, different art and where everybody is welcome to show their talent and ideas. You must visit La Tabacalera to discover what I am talking about, a unique place in the center near Lavapies neighborhood located in the old Tobacco Factory. Google Maps:https://goo.gl/TkCWXD
Take your date to an original place
The hawaian bar Mauna Loa for example is a very cool place to take a date, but if you are not on a date, just come and grab one of the famous cocktails they do to enjoy it with your friends: The Volcano. Also girls are treated like queens giving them an small hawaian umbrella, a flower and a colorful flower necklace, now relax, drink talk and feel like in Hawai in the center of Madrid. But this is not a commercial post about them, Madrid has many other places to visit besides this one. Google maps: https://goo.gl/RY1lf5
Go Hiking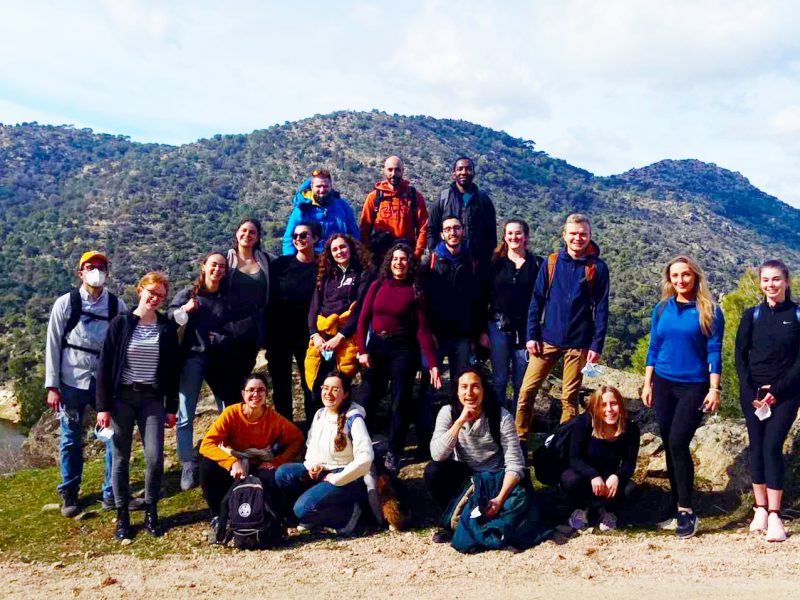 Luckily Madrid is surounded by some of the biggest and most beautiful mountains of Spain, full of paths, you can follow to discover that Madrid is not only nightlife, museums and food but it also has an amazing nature full of flora and fauna that is just there for you to go on an adventure.  (Check out our weekly hikes in the Comunidad de Madrid)
Mercadillos
In addition to El Rastro, every weekend flea markets held in the city for all tastes. El Mercado de Motores the best known, it's held in the Railway Museum and attracts hundreds of visitors. Its wide range, it has an outdoor patio to have a beer, free concerts are its main attractions.
These are the Madrid Urban Vibes!
So as you can see, there are many ways to spend a Sunday in this pretty city, however if you have anymore cool ideas please post them in the comment section.
Follow our BLOG for more content in English and Spanish!