If you have been in Madrid for a while, it may be that you have come across some huge blue containers from Madrid, these belong to Cubo Gym, an outdoor sport proposal that has been passing through different areas of the capital.
Since August 1, 3 of these outdoor gyms have started operating and 12 more are scheduled to open due to their popularity.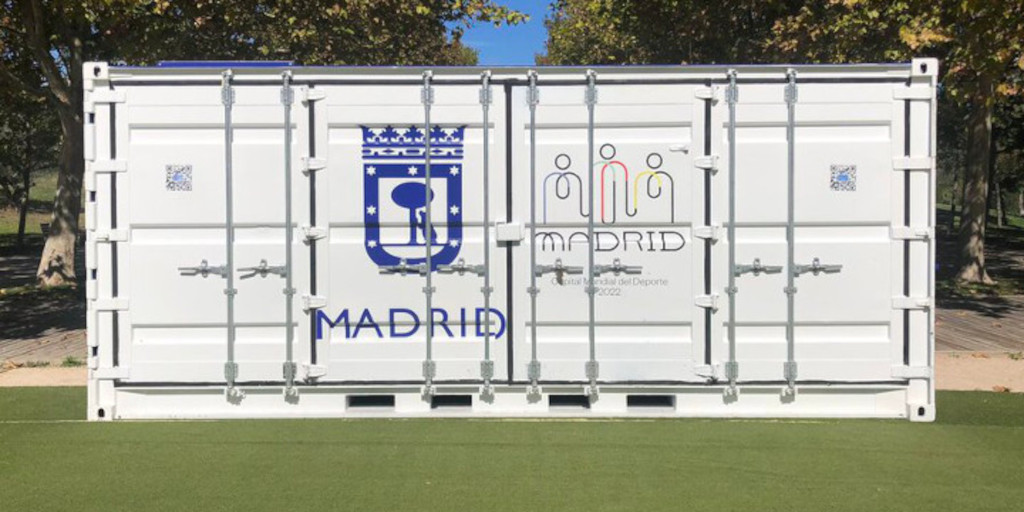 The initiative of the Madrid City Council to convert a cargo container into an itinerant gym has already passed through places such as El Retiro park, El Manzanares or Juan Carlos I. Cubo Gym, as this proposal is known, would further expand the gyms and hopes, before the end of this year, to have at least 28 permanent and itinerant cubes that will be distributed throughout 17 districts of the capital.
The first 3 cubes that have been launched since last Monday, August 1, are located in El Retiro Park, in Madrid Rio and El Cañaveral Park. These have all the sports equipment necessary for routines and are equipped with solar panels that make them self-sufficient in energy consumption,
To these 3, before the end of the summer, another 25 Cubo Gym will be added; 12 will be fixed cubes that will be placed in Municipal Sports Centers (CDM) and another 13 will be installed in the first months of autumn.
But, where will these new Gym Cubes be installed?According to the Madrid City Council, these 12 new cubes would be distributed among the Municipal Sports Centers (CDM)as follows:
Arganzuela
CDM La Fundi
CDM M. de Samaranch
Barajas
Chamberí
Fuencarral-El Pardo
Hortaleza
CDM Luis Aragonés
CDM Hortaleza
Moncloa-Aravaca
CDM Casa de Campo
CDM Alfredo Goyeneche
Moratalaz
Puente de Vallecas
Retiro
The rest of Cubo Gym is expected to be installed between the months of October and November, and will have more sports equipment.
The hours in which you can access these outdoor gyms are from 7:00 a.m. to 12:00 p.m. in the morning shift and from 6:00 p.m. to 2:00 p.m. in the afternoon shift from Monday to Sunday.. In them you can receive Functional Training sessions and they will last 1 hour per session, with a maximum capacity of 20 people.
The prices of these outdoor gyms are €3 for directed classes and €2.50 for free use. You also have the possibility of renting the complete Gym Cube (prior authorization from the Sports Directorate)for €38 per hour.
You must be over 15 years old to use these services and reservations are made through the Madrid Móvil App or through this web link. Those who have a Madrid Sports Passwill be able to access Cubo Gym free of charge.
Take advantage of this proposal and deliver it with specialized personnel or on your own in a real outdoor gym.
You can see more interesting articles in our BLOG
Find us also on INSTAGRAM